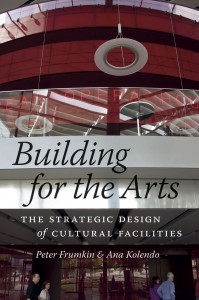 My day job is at the University of Texas at Austin, where I manage research projects and work with faculty on books, case studies, papers, courses, and presentations. Since I have a fiction writer's eye for style, story, and details, the writing projects I work on tend to be engaging and accessible for a general audience as well as meet the rigorous academic standards for original research.
One of my recent projects turned into a book published by the University of Chicago Press. In Building for the Arts, my co-author and I explored how and why new theaters, performing arts centers, and museums get built in the United States. During a recent construction boom, over $19 billion was spent on new arts facilities in the recent decade. But have these new facilities made our cities more vibrant, arts more accessible, and artists' lives easier, or are there better investments than buildings in the cultural field? While some of the new buildings we studied turned out to be stories of triumph, others were unmitigated disasters, leaving behind a trail of lawsuits and bankruptcies, heart attacks and ruined friendships.
Here are a few excerpts available online:
Read more about the book at the site for the University of Chicago Press.